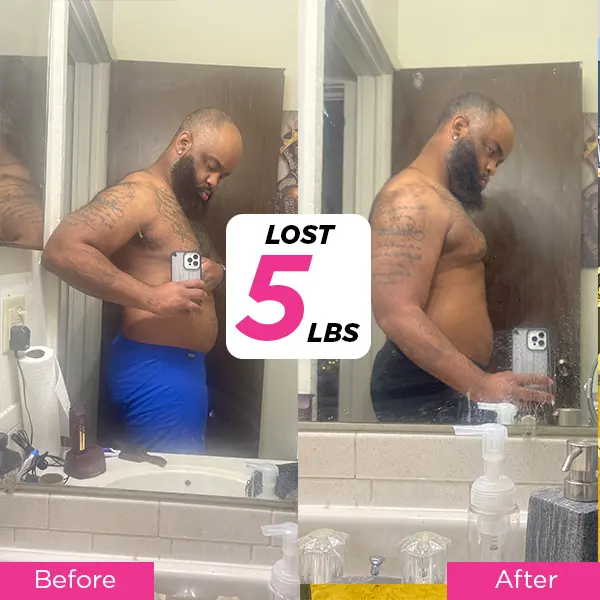 Before The 15 Day Challenge, Elijah Marshall kept up an active lifestyle. As a collegiate football player, he felt energized by a challenge, pushing himself to his limits to conquer his opponents. But after tearing his ACL, he was forced to leave the field.
As years passed, Elijah noticed health issues creeping in. When he sat down or leaned against a surface for too long, his limbs would sometimes go numb. As the issue became more common, he worried it would escalate, eventually causing serious damage and preventing him from being with his two children.
Elijah's family motivated him to make a change. When his son was born, Elijah dedicated himself to setting a good example as a parent. He also valued support from his mother, who introduced Elijah to TLC and encouraged him to join The 15 Day Challenge. He entered the challenge with the mindset of an athlete, ready to put in the work outside of his comfort zone.
During The 15 Day Challenge, Elijah amped up his existing exercise routine, eager to see how far he could push himself. He sprinted or jogged every day, lifted weights, and did more rigorous variations of his typical workouts. When he first started hitting the track with a friend, he struggled to sprint at top speed, occasionally feeling nauseous after running. After staying consistent, however, that same friend could no longer keep up with him. "That alone showed me the progress I needed to see."
In addition to his rigorous workouts, Elijah switched up his diet, opting for less carbs and more vegetables. On a typical day, he ate two meals and three snacks, and he avoided the temptation of cheat days. He consumed protein shakes and ate healthier alternatives to some of his favorite foods, like lettuce-wrap tacos.
Before The 15 Day Challenge, Elijah struggled to stay consistent. "Usually, I just say I'll do it later, and then I don't," he said. "The victory I gained from The 15 Day Challenge is that I even did it in the first place. I started and remembered to stick with it."
Elijah's consistent routine not only allowed him to lose five pounds and drop two pant sizes, but it helped him feel better overall. "I have a lot more energy," he said. "I'm thankful that I did this. Win or lose, I'm just happy to be feeling better."
Elijah is a real estate investor and works for an airline.
He was a collegiate athlete.
Elijah is a father of two children.
He has lost five pounds and gone down two pant sizes during April's 15 Day Challenge!*
*Results achieved through one or more TLC 15 Day Challenge cycles combined with a low calorie, balanced diet, and regular physical activity.
**Individual results are not guaranteed and may vary from person to person. Taking TLC Products is not a substitute for a reduced-calorie diet and exercise if you are trying to lose weight. You should always consult a physician before starting any weight loss or fitness regime.