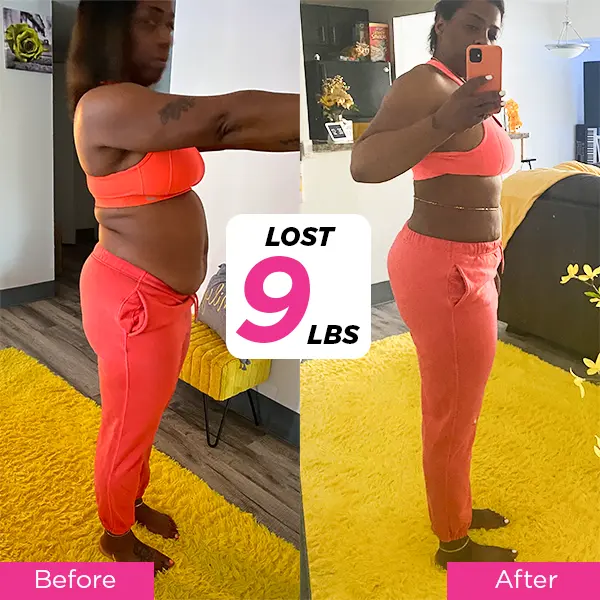 Nicole Matthews looks to her mother as an inspiration. When Nicole was just sixteen years old, her mother passed away from a brain aneurysm. Since then, Nicole has worked to reflect her mother's kind, giving spirit. She opened her own daycare called Robin's Nest (named after her mother, Robin) to give back to the children in her community of Pittsburgh, PA. The tragedy of her mother's passing also caused Nicole to develop a serious approach to caring for herself.
When she joined The 15 Day Challenge, Nicole sought to "turn pain into passion" and truly make her health a priority. For fifteen years, she had chosen to adopt a vegan diet; during her challenge especially, she enjoyed foods like asparagus, rice, and mushrooms. She also limited her snacks, stopped eating after 8 p.m., and became more intentional about meal prep, cooking a large meal on Sunday nights and breaking it down into grab-and-go portions for the coming week.
To keep up a consistent workout routine, Nicole participated in a Faith and Fitness Zoom call, made specifically for women who struggled to find time to hit the gym and preferred to exercise in the comfort of their own homes. The group did full-body or weight-lifting workouts together and formed a spiritual connection, praying to open and close their call and uplifting one another throughout the week.
After pushing herself during her 15 Day Challenge, Nicole lost a total of nine pounds, as well as an inch off her waist and two inches around her hips. She achieved her weight-loss goal and now hopes to continue her routine with a focus on toning her muscles. "I never thought I would have the time or energy to lose weight and look the way I wanted to," she said. "But this challenge gave that to me."
As a single mother of three children, Nicole's greatest opponent to a healthy lifestyle was time. The 15 Day Challenge helped her stay consistent, not only taking care of her body but strengthening her mindset, gaining mental clarity and focus. By telling her story, Nicole hopes to inspire others to make their health a priority. "This challenge has really challenged and motivated me to make better choices and develop a healthier lifestyle that will break generational curses," she said. "Don't procrastinate on your health. Life is short."
Nicole owns a daycare in Pittsburgh, PA.
She is a single mother of three children.
Nicole lost nine pounds during April's 15 Day Challenge!*
*Results achieved through one or more TLC 15 Day Challenge cycles combined with a low calorie, balanced diet, and regular physical activity.
**Individual results are not guaranteed and may vary from person to person. Taking TLC Products is not a substitute for a reduced-calorie diet and exercise if you are trying to lose weight. You should always consult a physician before starting any weight loss or fitness regime.