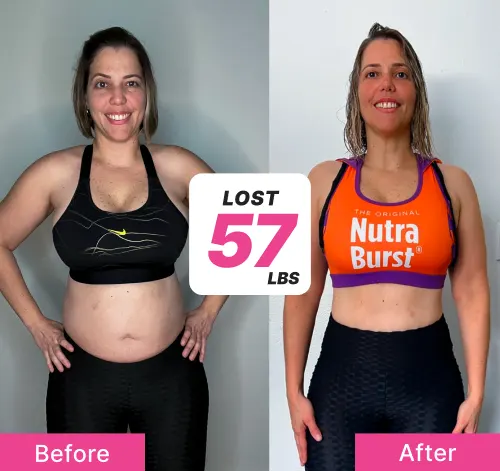 Having spent most of her life in Venezuela, Karla Lopez recently left her home and relocated to Florida to care for her mother, who is currently undergoing chemotherapy to combat cancer. Worried for her mother and facing struggles in her marriage, Lopez's stress led her to lose faith in herself. When she attended The 15 Day Challenge Gala, her attitude changed. Inspired by the transformation stories shared and encouraged by the community to share her story, Lopez felt "unstoppable."
Soon after, Lopez committed to The 15 Day Challenge to care for herself and form healthier habits for the sake of her two young daughters. "There are many people who stop thinking of themselves when they become a mom," she said. "I was telling myself, 'You can be a mom, and you can inspire people.' I want to show my kids that anything is possible."
During her challenge, Lopez dedicated more time to physical activity, not only lifting weights at the gym but also taking walks around her local park, doing Zumba, and making up dances to keep herself moving. She carried a water bottle with her constantly, and she sacrificed the convenience of frozen foods in favor of more protein and fresh vegetables. Additionally, she used The 15 Day Challenge Kit, consistently consuming the products every morning and raving about its effects: "This little box gave me the power to move forward and take care of myself." Throughout her most recent challenge, Lopez lost a total of seven pounds.
Though she found it difficult to stay committed to the challenge due to complications in her personal life, she continued to push herself and remember what she was capable of. "I believe God is testing me with my recent challenges in life, but I am not letting that pull me away from my goal of continuing my transformation," she said. "We're so focused on the results we see, but I really experienced a mental change. I knew I could accomplish anything I wanted to. Reaching my goals has changed my life more than weight loss. It has helped me believe that change is possible."
Karla has completed about 12 challenges.
*Results achieved through one or more TLC 15 Day Challenge cycles combined with a low calorie, balanced diet, and regular physical activity