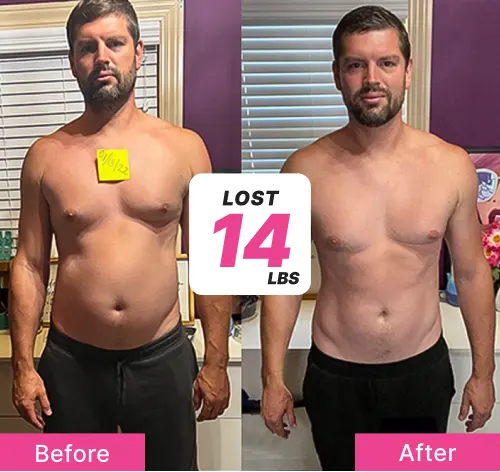 In just 15 days, Shawn Ryckman lost 14 pounds. Through the healthier choices that The 15 Day Challenge helped him adopt, Ryckman's weight dropped from 231 pounds to 217 pounds, and his pant size shrunk from a size 38 to a size 34.
Before The 15 Day Challenge, the Pennsylvanian father of four struggled with binge-eating at night. Throughout his challenge, he set restrictions for himself to overcome this pattern. Every night, he set an alarm for 7:45 p.m. to remind not to eat after 8 p.m. To replace his binge-eating habit, Ryckman began drinking more water and using products to assist his weight loss goals, creating mixtures such as Black Raspberry Flavored SlimPM with Iaso® Original Tea or Delgada Instant Coffee with Cinnabon® creamer.
Though Ryckman is a self-proclaimed shy person, he claims that The 15 Day Challenge changed his attitude, helping him feel more confident in himself. "I don't feel as bloated, and the challenge helped me make better choices with my food," he said. "Doing this challenge gave me the focus to be better."
He completed 1 challenge.
*Results achieved through one or more TLC 15 Day Challenge cycles combined with a low calorie, balanced diet, and regular physical activity
**Individual results are not guaranteed and may vary from person to person. Taking TLC Products is not a substitute for a reduced-calorie diet and exercise if you are trying to lose weight. You should always consult a physician before starting any weight loss or fitness regime.